Sympathy for the Devil? DVD
NTSC; Region 0  
UK import
A feature length documentary that reveals the the inside story of the mysterious and infamous cult. From the lips of the people who were there.

DVD Extras include: additional interviews, deleted scenes, and audio commentary by the late Timothy Wyllie, Emmett Dwyer and the filmmaker. Plus the Neil Edwards directed documentary 'The Manson Family: Born to Kill?'
Includes 20 page booklet and postcard signed by the director Neil Edwards and John Harvey (Brother Zachary, ex-projectionist for the Process Church).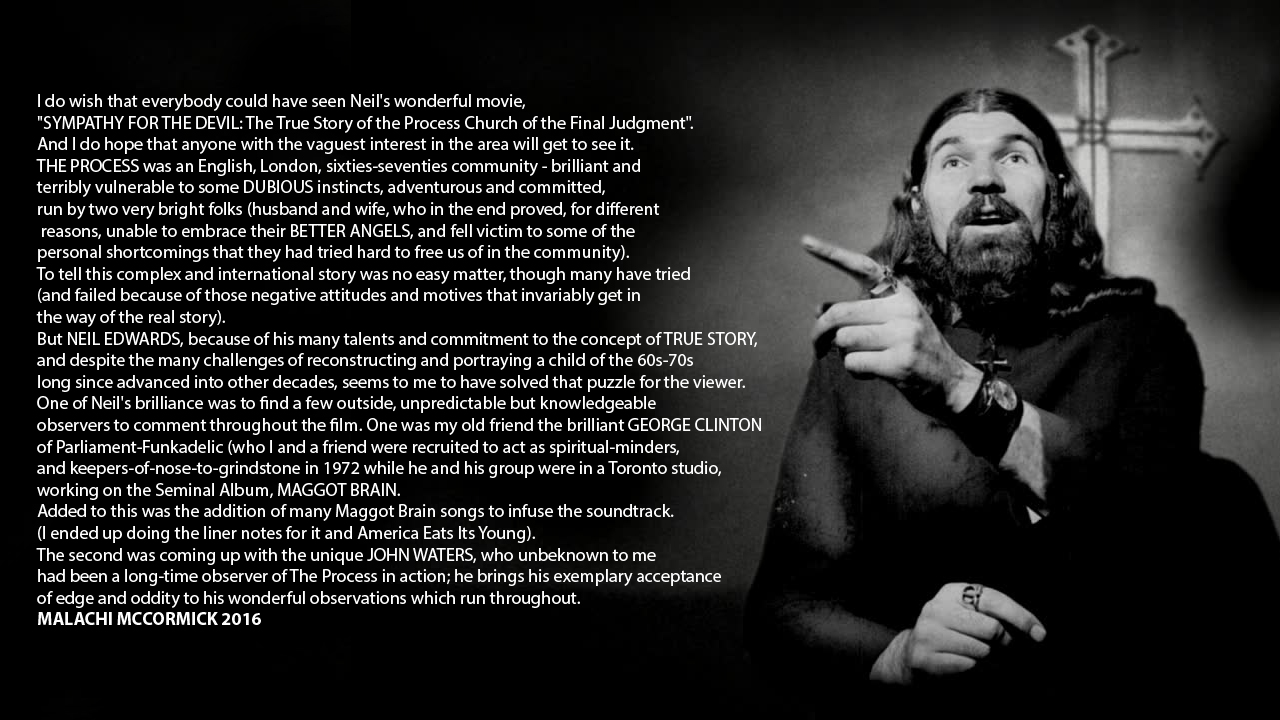 DIRECTOR'S STATEMENT by Neil Edwards
"I'll admit I was nervous when I met my first former 'Processean'. Despite having corresponded with and spoken by phone to a seemingly charming, well-spoken English 'gent', it was difficult for me to completely shake off the dark images that had been nurtured by conspiracy-theorists. 

I wasn't there for the 60s (except for a few months). Born in 1969, I only really became aware of the great cultural revolution that had occurred during that decade when I reached my early teens. 

I was part of a tribe of young people, dissatisfied with the grey 1980s, who looked back to the '60s for inspiration - in the music we made and listened to, the clothes we wore, the books we read, and the films we avidly watched. 
But, because I wasn't there, I had never encountered the 'strange' folk known as The Process first hand. 

The first I heard of the mysterious cult was when I began to take an interest in the community/commune movement of the '60s and, like so many before, became drawn into the story of its maddest incarnation - the mind-blowing tale of the Charles Manson Family, and their bloody murders of, amongst others, actress Sharon Tate and her friends. 

The Process are mentioned in Vincent Bugliosi's definitive book on the case, 'Helter Skelter', and the Prosecutor concludes that he is convinced that Manson 'borrowed heavily from the Satanic cult'. Later, I would also discover the Ed Sanders book on the Manson Family with its spooky and lurid tales of an English Satanic cult to which he attributed 'sleazo' influences on the ex-con turned cult-leader. 

Then I read Maury Terry's dark, conspiracy-riddled book about The Son of Sam murders in late '70s New York. 'The Ultimate Evil' talked of bloody sacrifices, assassinations, and devil worship, and described The Process as 'one of the most dangerous Satanic cults in America'. 

My interest was well and truly piqued while I was making a documentary about Manson. Chatting with a true crime writer, he revealed that, in the early '70s, he had been approached by Manson devotees suggesting he write the Family's story. The disciples were led by Squeaky Fromme (later jailed for an assassination attempt on US president Gerald Ford). I asked the author if he was ever scared of Squeaky and the gang. "Never", he replied, "but I'll tell you who I was really scared of...The Process. They really freaked me out!". 

I just had to learn more - and, if I could, capture this mysterious, mostly forgotten story from the furthest-out reaches of the 60s, before it disappeared forever. 

Despite having begun to research the black-robed cult and having found no concrete evidence to back up those lurid, murderous, accusations and theories, I would still have to admit some trepidation when driving along the dirt roads of New Mexico towards the isolated desert home of Timothy Wyllie - formerly Father Micah, one of the founder members of The Process Church Of The Final Judgment. 

Pulling up outside his large and distinctive home, I could see him stood above me on an elevated viewing deck. Tall, slim, with long silver-grey hair blowing in the wind, he fixed me with a steely gaze and I couldn't help wondering what I'd got myself into. 
The story Timothy (and subsequently several other significant former members of The Process) revealed to me was a lot less bloody than all those lurid conspiracy theories (if you discount their self flagellation!) but no less extraordinary. A tale of spiritual/psychological adventure, non-conformity, provocation - a search for self, and for god, that took the charismatic band of bright-young-things from the swanky Mayfair district of London, through wilderness experiences and near death in Mexico, to evangelising their often shocking theology across North America and Europe, and onwards into their associations with Charles Manson and the rumours and dark theories that followed and still abound. 
That's not to say that The Process didn't have some well hidden and deeply protected secrets of their own. 

Winning the trust of former members, given their previous experiences with media coverage, took time, but I believe my willingness to give them a voice, and my sincere interest in their experiences must have been evident to them. They were extremely open, self-aware, and charming to a fault. I feel privileged to consider them my friends. 

It was always important for me that I create a film voiced by the people that were there - those that were either in the group, or encountered them along their intense journey. I wanted to always retain an open mind and not impose my own opinions into their story. Because I didn't want the story to be compromised by outside influences, I came to the conclusion that I should shoot, edit, and eventually score the project myself. Inevitably, it's taken an age to complete - but hopefully I have managed to protect the film's integrity.

I also wanted to capture a flavour of the former Processeans' humour - they really are a terribly amusing self-effacing bunch of people. I was eager to be true to their very defined sense of style, especially given my love of that era's imagery. Populated by so many young architects and designers, it's perhaps not surprising that The Process were a strikingly visual cult, with their own provocative magazine, books, distinctive uniforms, rituals and accessories. I've tried to capture some of that in the film's styling and colour palette - not to mention its soundtrack, which features the amazing Process influenced recordings of George Clinton and Funkadelic. 

Making this film has reinforced for me that it is a mistake to think that cults attract only the intellectually challenged, the socially deprived, the weak or vulnerable. I'm sure some such people were drawn to The Process, but by far the largest number of the founding core were highly intelligent, well-educated members of what might be described as 'the privileged classes'. That these clever, strong-willed, talented people bent  so significantly to the will of their secret leader, is something that deserves deep thought and consideration, especially today with the news seemingly full of reports of religious fundamentalism.  It's a question I'm still wrestling with, but, as I say...I wasn't there. Fortunately, they were and were generous enough to share their stories."
a joyful process the process on tour from Neil Edwards on Vimeo.